How to be fashionable?
Here are some tips for Water Zodiac signs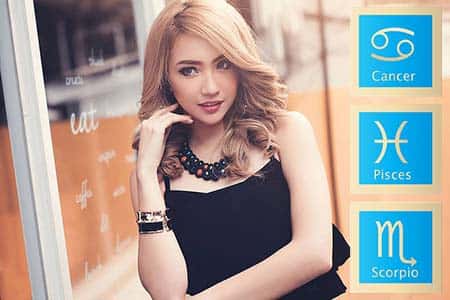 Cancer: As Cancer is patronized by the Moon, the best colors for you are pastel yellow, creamy, milk and ivory colors. They will not make you pale, but will only emphasize your natural zest and beauty. Such colors are considered complicated, as they may look dirty or old on some people, but it doesn't concern you. They add some harmony and calmness to your stormy character. As for the accessories try some pearls. It is a classical and beautiful choice that will pass to you. Also you will look very tender and sweet in French romantic style with small floral prints and small lace-trims. Cancer women should pay attention to knitted lace and soft, loose clothing, as it will provide comfort and tenderness to the look. As for Cancer men shirts with 3/4 sleeves in subdued colors will be a great and elegant choice. If you can't pick a good look for a special occasion look up to a classics and pastel colors, and you'll always look effortlessly brilliant.
Scorpio: Scorpio is a touchy sign under the influence of mysterious and hidden Pluto. This sign should pay attention to dark and deep colors that reveal sensual side of a person. Black, dark chocolate, ruby red, emerald in combination with tight cut, cotton, leather, lace fabric will make Scorpio outstanding. The charm of Scorpio is that on them black color doesn't seem like a grieving one. Scorpio makes dark tinctures become the colors of passion. Generally, Scorpios are quite attractive naturally, so they don't have to put many efforts to look good in clothing. You can also experiment with makeup, try different ways to accentuate your eyes and lip line. It is very important for you to find the right shape of sunglasses, think about extraordinary frames or unusual lenses' color. To find something good for your type of body, you may search among lifestyle brands, as they already have ready-to-wear looks and plenty of basic clothing.
Pisces: Pisces are very lovable people, they are charming and sweet, as well as highly intuitive. You can see in their eyes what they mean and what they want. They are very sensitive and creative and it is reflected on their style and behavior. Their features are best accentuated by different shades of blue from the navy one, to the light pale blue of the cloudy sky. Lavender and plum colors also look great on Pisces. Another category of colors that is brilliant when Pisces person wears them consists of creamy colors, pastels, yellow, sea green, turquoise, ivory, whites, sand. The textures to look at are monochromatic, with wavy prints and layers. Perfect fabrics are chiffon, satin, silk, linen. Neptune is a planet that guides Pisces, so prints that resemble water or have aquatic topic will look natural on them. Don't be afraid to experiment with different shades of colors, especially if they are quite deep or dark. Pisces are always seeking for comfort and style all in one. This sign will never buy a dress or shirt that isn't both comfy and stylish. They have very delicate taste, and sometimes it is quite complicated. Pay attention to makeup usage and make emphasis on the eyes.
---
How to be fashionable? Here are some tips for Zodiac signs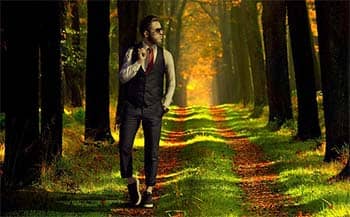 Have you ever thought about how to look brilliant and still be comfortable in what you wear? If you can say that you are a hesitant person when it comes to clothing, you need to read this text.