How to be fashionable?
Here are some tips for Fire Zodiac signs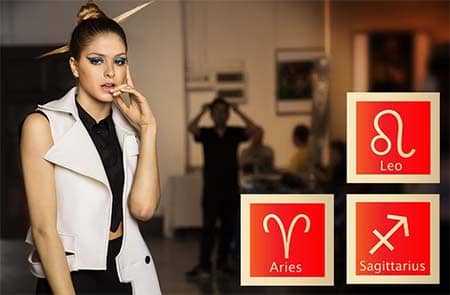 Aries: For your furious and passionate temper red - is the best color. If you are in doubt on what to wear, simply choose something red out of your wardrobe and you'd look magnificent. You must have something red for a special event in your life. Maybe you think this color to be excessive to wear everyday, but you shouldn't wear it 24/7. What's more, there are so many shades of red both bright and diluted. Also, don't forget about other option - red accessories. If you don't feel like wearing red clothing today, try red necklace or earrings. It looks really rich and shows your taste and style. Think about Ruby and garnets in your accessories. This color will look sophisticated with black and white. Excellent classic example is smart casual black and white suit with red accessories and red heels. This color will emphasize on your enthusiasm, vividness and style.
Leo: Lions are very sophisticated when it comes to style. It is so hard for a regular person to find a piece of clothing that will suit the taste of this sign. Lions need something special, they can not wear ordinary things and feel fine. You should show the pride you have, emphasize your body and express your mind with the help of your clothing. Pay attention at the shades of yellow, orange, gold, brass and ochre, as they suit your sign. They will help you accentuate your natural freshness and elegancy. When it comes to a special occasion - it is hard to find someone else who dresses better than Leo, but they tend not to care in everyday life about clothing. However, everyday style needs some corrections, as your beautiful image from the special event is spoiled by inattentive choice in routine. You have sense of style and taste, so try to enlarge your casual wardrobe with something worthy. Stick up to elegant and classy style, you are on the right way!
Sagittarius: Your extraordinary and adventurous nature makes you a perfect person to experiment with so many styles and create unique and amazing looks. Use your chameleon skill. You often wear something ultra trendy, as you are not afraid to correspond to the fashion of time. However, sometimes you also fail to provide a proper care to your clothing. If you wear a tight dress, it makes your look elegant and charming. Your preferences are hard to meet, because if you want a particular thing - it can not be replaced with just an analogue. You have an exceptional taste and vision of how you look, and it is amazing. You also tend to choose your favorite clothing and wear it until it annoys you. When it comes to active time spending, you prefer smart sporty style with sandals, colorful prints, and saturated colors. When you go out you tend to wear something loose and feminine like boho-skirts and blouses from natural fabrics. Take a closer look at scarlet, crimson, emerald, violet and lavender, navy blues colors, as they make you look sophisticated and fresh.
---
How to be fashionable? Here are some tips for Zodiac signs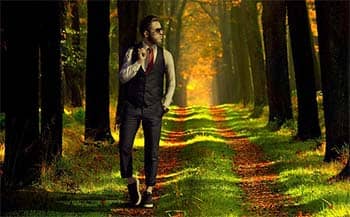 Have you ever thought about how to look brilliant and still be comfortable in what you wear? If you can say that you are a hesitant person when it comes to clothing, you need to read this text.