How to be fashionable?
Here are some tips for Air Zodiac signs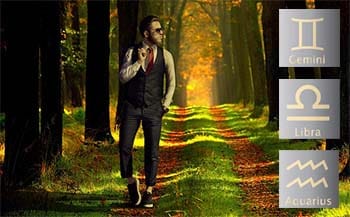 Have you ever thought about how to look brilliant and still be comfortable in what you wear? If you can say that you are a hesitant person when it comes to clothing, you need to read this text. Every minute is precious when we decide what to wear to go out. Do you know what color and cut fits you best?
Don't panic! We know how to make this out. Your Zodiac sign hides more about your personality than you may suppose. Generally, you can use knowledge about your sign while choosing what to wear, giving fashion tips to your friends and selecting the best birthday gift.
Gemini: You have an amazing sings that will let you choose and change so many outfits that you can hardly imagine. You will easily fit into any look of your choice. Most fabric will suit your body and style. Don't forget to use accessories: the more interesting and sophisticated they are – the better it is. If you love shoes try to look for original and ergonomic models. Pay attention to blue, green and pink colors for shoes, as they better reflect your sign. Despite your need in clothing of interesting cut, try to make it comfortable all the time. Never sacrifice comfort for good look. Your perfect styles are smart casual and eclectic. If you have a guts try neon and bright orange clothing. Generally, you are the person that can make ultra trendy clothing look stylish and outstanding.
Libra: You have a natural sense of style and good taste. Venus patronizes the Libra sign, so elegancy is your second name. Your choice of clothing has helped you many times in your life. You look good and people are attracted to aesthetics in life, and you are a part of it. Your clothing only adds charm to your personality and expresses your ideas. You are the person that helps others to find the right dress of shirt in the shop, because your imagination and sense of style are very sharp. You can suggest the best color choice and cut. Try to reconsider your elegant style and combine it with some modern accessories to make the look more sophisticated. It is a perfect formula for you. Pay attention to pastel colors, marine colors, and pearl-transcendent colors – they can renew your look.
Aquarius: Aquarius is a very trendy sign. Such people can easily try new styles and wear them everyday, so they look very fashionable. People around can not even remember any unsuccessful look of Aquarius. You have a special gift: you can create an amazing look from the clothing that from the first sight can't be matched. Pay attention to pieces like sophisticated t-shirts, loose jeans, shorts, hipsters, ankle-length skirts, off-shoulder tops, and other things of interesting cut and shape. The accessories that can suit you are like bracelets, ring earrings, dangling earrings, different bangles, leather chappals and other accessories of eclectic or boho chic style. Wear clothing of different colors, you will express yourself this way. Don't forget, your style will fit various clothing, so you have broad abilities for matching.
---
How to be fashionable? Here are some tips for Earth Zodiac signs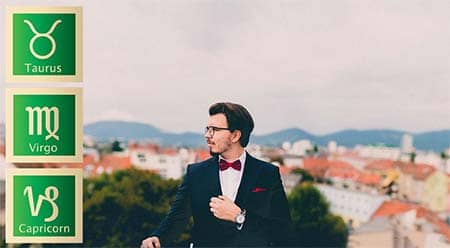 For example, It is important for Taurus to show beautiful neck. As for the colors in particular Virgos will look good in all shades of brown, deep terracotta, yellow, mustard, and white.
How to be fashionable? Here are some tips for Water Zodiac signs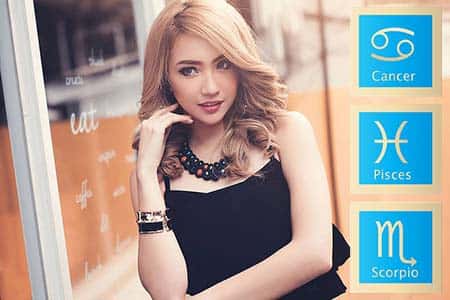 For example, Cancer women should pay attention to knitted lace and soft, loose clothing, as it will provide comfort and tenderness to the look. Pisces are always seeking for comfort and style all in one.
How to be fashionable? Here are some tips for Fire Zodiac signs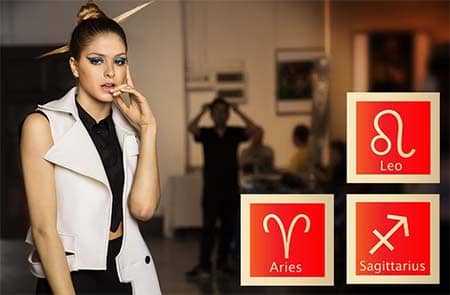 For example, Aries, if you are in doubt on what to wear, simply choose something red out of your wardrobe and you'd look magnificent. Lions need something special, they can not wear ordinary things and feel fine.