What Interior Design Do You Prefer?
Water Zodiac Sign knows!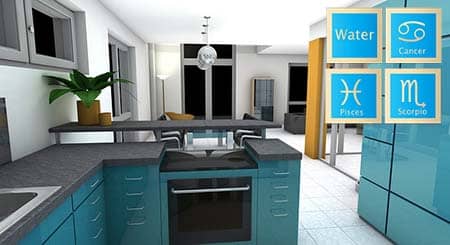 Cancer: Deeply connected to house and family life, Cancer is a zodiac sign for whom warmth and consistent confirmations of affection are indispensable. The natural Crabs - they frequently see their homes as their havens, withdrawing from the cruel world. An impeccable home of a Cancer is a tool of tender isolation from the outside world, a common image of natural security and control with a clear connection to the past. Cancers prefer daytime because of the sunlight, and need to have thoroughly ventilated and sufficiently illuminated homes. Denim, sea greens, blues, emerald are the right hues for the Cancers dwelling. Collectibles, family legacies, old family pictures all of these may be find its place in this home. Being quite thrifty, both in tendencies and in words, Cancers may not spend a lot of time organizing or bringing their stuff in order, yet their homes will often be quite beautiful and vivid as well as inviting and comfortable. The kitchen, which would, no doubt, be a matter of a main concern, might play the role of meeting of the closest people and a gathering point in their home. An open kitchen set-up, where Crabs can think, live, communicate and play with kids will become an important part of the house. Old patio furniture, water details, huge amounts of plants and blossoms - all of these will make a Cancers really cheerful.
Scorpio: This sign is often associated with magic, mystery and darker colors. It applies to interior design as well. They really value their privacy, not all of Scorpios are sociable people. They prefer dark tinctures for their walls and furniture. In order to light up your house a little bit, you may use jewel tones accents all over the house in contrast to the major darker elements of the design. Marsala and Bordeaux are great colors for Scorpions. Also, pay attention to violets and purples, graphite gray and dusty dark blue. The styles of interior for Scorpions may be inspired by Middle Eastern, African or Indian styles. However, they shouldn't be that ethnic - simply a touches of these styles in mix with modern and luxurious design. For Scorpions it is very important to have a place where they can have a rest in comfortable solitude. It may be a small armchair in the garden or spacious room in the house with beautiful window view, but quite secluded so no one can see Scorpion there. Why do Scorpions like hidden corners so much? - Because they are attracted to everything mysterious, and rooms only for them provides a good chance for them to explore their inner world, to contemplate and analyze everything that is happening in their lives. By thinking everything over they resolve the mystery and get rid of a burden. Maybe it is a reason why Scorpions like everything that has a story, a meaning behind it like tribal things, statuettes, ornamented things and ethnic stuff. As for the bedroom, Scorpio likes it to be luxurious and comfortable.
Pisces: Pisces are very touchy, sensitive and dreamy sign. They have a great sense of style and vivid imagination. They are not really into order and discipline, their houses are clean, but lack of organization, though still have an artistic feel. Their home - is a place of relaxation, rest and calmness. They are not ordered in their everyday life, their head is always full of thoughts, ideas and feelings. Pisces' imagination exaggerates everything, so the way thing are organized in outer world isn't so important. Pisces love their home and are very attached to it, so they will not live in full chaos or clutter. They would rather have messy and tidy periods changing one another. Some Pisces love order in their house, but it means that they are quite chaotic in everything else, and it is such compensation. As for the decoration, they like everything sophisticated and delicate. They create neutral and pleasant design - as they need to have a rest in their house. They don't like complicated stuff, so everything will be simple and classy with a good taste.
---
What Interior Design Do You Prefer?
All people see their perfect design differently, so which one suits you? Read on, and you'll find out what interior design is the best for each Zodiac sign. For example, Gemini loves to change the scenery and it concerns interior design as well. Denim, sea greens, blues, emerald are the right hues for the Cancers dwelling.